BayCreative is more than a full service B2B marketing agency; for more than 18 years, we've driven results for our clients as an extension of their team. With our "marketing department in a box," approach, BayCreative offers in-depth, collaborative support to develop and execute effective digital/web marketing, inbound marketing, lead generation, brand awareness-building, new product/service launch and sales/channel enablement strategies that fuels our client's growth.
Serving long-term needs is a must for us, and it seems our clients agree. Based on conversations with several of our clients, Washington D.C.-based market research firm Clutch has recently recognized our efforts with four "Market Leaders" awards: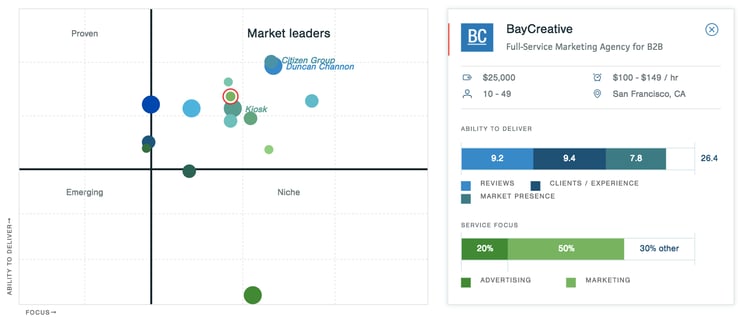 Clutch's research spans the breadth of the creative and marketing industries. Their work examines several hundred agencies' ability to deliver excellent customer service and results for clients. The firm's research criteria include over a dozen factors, chief among which are interview-style conversations with clients. These provide a detailed examination of the agency-client relationship and allow third-party verified reviews to serve as the foundation for identifying leading agencies.
"We're grateful that so many of our clients have spoken up about our work, ranking BayCreative as one of only a few agencies that delivers 'the triple crown' across the digital marketing, full-service digital, web design and advertising segments Clutch researches in San Francisco," stated Scott Danish, BayCreative President & Co-Owner.

Here are some of the things our clients have had to say about our service:
One client, a CRM provider for whom we have provided several case studies, commented on our project management:
"BayCreative is great. They're always on time. The entire team is very responsive when I have a quick edit or need something changed. After the first interview, they're always very good at turning around the first draft within about a week. If there's any hang-up, it's on the customer's side with their internal approval process before we publish."
With another client, we provided video marketing collateral. This enterprise security firm told Clutch the results our work has brought:
"We are finding that customers are staying on our website longer. We have higher engagement on our website because of the video content. The number of people willing to download our resources and give us leads has also increased tremendously. Even the email open rates and click-throughs are much higher as a result of the work BayCreative is doing."
The same client later continued:
"BayCreative made me look like a superhero. Internally, our company loves their work, from the CEO all the way down. Externally, it's brought an element of fun to what is a pretty bland topic, the security of documents. With the testimonials, I think they're very good at bringing out the best in customers when talking about our product. The videos have been super helpful and useful in the market."
A longer-term partner also spoke up about our partnership together, mentioning what is most impressive about our partnership:
"They've done incredibly well in bringing creativity and inspiration to our project. Also, they understand the people they're working with and what their needs are. They understand the current environment, where there's opportunity for change, and the limitations that might exist. They've worked well within those constraints."
To find out more about what our clients say about our work, check out the BayCreative reviews on Clutch.
To see our inclusion in Clutch's research, check out the links below: