BayCreative is more than a full service B2B marketing agency; for more than 20 years, we've driven results for our clients as an extension of their team. With our "marketing department in a box," approach, BayCreative offers in-depth, collaborative support to develop and execute effective digital/web marketing, inbound marketing, lead generation, brand awareness-building, new product/service launch and sales/channel enablement strategies that fuels our client's growth.
Serving long-term needs is a must for us, and it seems our clients agree. Based on conversations with several of our clients, Washington D.C.-based market research firm Clutch has recently recognized our efforts with two "2018 Market Leaders" awards: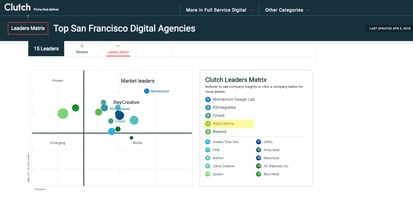 Clutch's research spans the breadth of the creative and marketing industries. Their work examines several hundred agencies' ability to deliver excellent customer service and results for clients. The firm's research criteria include over a dozen factors, chief among which are interview-style conversations with clients. These provide a detailed examination of the agency-client relationship and allow third-party verified reviews to serve as the foundation for identifying leading agencies.
"We're grateful that so many of our clients have spoken up about our work, ranking BayCreative as one of the San Francisco Bay Area's leading digital agencies for a second year in a row," stated Scott Danish, BayCreative President & Co-Owner.

Here are some of the things our clients have had to say about our services:
One client, a software provider for whom we have produced several videos, commented on collaboration with the BayCreative team:
"The videos are visually arresting and drive traffic to the other parts of the website. Engaging their talented voiceover artists, they presented complex ideas in a clear and compelling way, while their video production team's professionalism contributed to the seamless process. The visual quality and the narrative were terrific."
With another client, we developed customer and prospect-facing content. This software provider told Clutch about their long-term partnership with BayCreative:
"Bringing unexpected and fun ideas to the table, they deliver high-quality, creative designs within a short timeframe. Their professionalism and ability to stay on track with the project coupled with their pleasant demeanor makes them a reliable long-term partner. They do a wonderful job. We can rely on them to take care of everything."
A Global IT provider (and long-term BayCreative client) also spoke up about the partnership, mentioning value garnered even after an engagement concludes:
"BayCreative's work resulted in increased leads and lead quality, even after their initial engagement ended. Dedication and speed were important assets, leading to high-quality products consistently delivered on or before deadlines. Bay understood quickly what our business was about and helped us formulate our strategies."
To find out more about what BayCreative clients say about our work and their experience collaborating with our agency, check out the BayCreative reviews on Clutch Research.