Is your content lagging? You're not alone. Untimely and unsuccessful content creation happens for a variety of reasons other than inadequate planning. The good news is there are countless marketing tools out there that can help you reach more B2B buyers, create more compelling campaigns, and stay organized.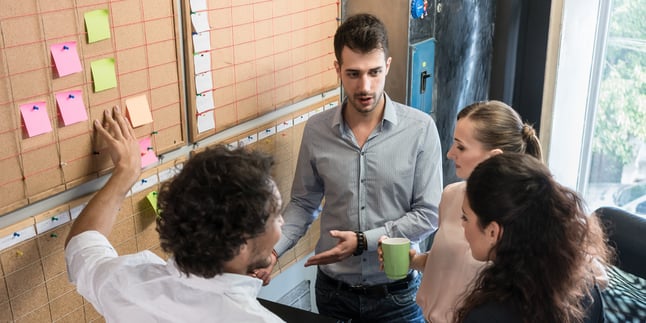 Here are a few of our favorites.

Optimize your writing for greater visibility

One of the biggest challenges that marketers face is creating content optimized for search engines. Keyword research is the first step. It enables you to uncover the commonality of search queries, the number of websites you'd be competing against for organic traffic, and much more. With 78% of companies using search engine optimization (SEO) and keyword research to their advantage, you probably miss out on visibility and potential business. Some of our favorite SEO keyword research tools include Moz (www.moz.com) and SEMrush (www.semrush.com).

Build accurate personas

Building accurate personas is one of the best things you can do for your business. But surprisingly, only 56% of companies are using them to their advantage. Personas can help you better define your buyers—and get to know them on a deeper level—so you can target them with the right message at the right time.

Now is a critical time to revisit your buyer personas since they likely shifted during the pandemic. The economy peaked in the fourth quarter of 2019 before experiencing two consecutive quarters of plunging GDP. Declining business in 2020 made it clear that people, in general, are more conservative with their cash reserves.
To create an accurate and useful persona, you should know your potential buyers' current pain points, the things that motivate them, their interests, and buying behaviors. This will enable you to speak to them in a way that resonates with them. A few persona-generator tools we suggest include: FlowMapp (www.flowmapp.com) and Smaply (www.smaply.com/tools/personas).

Stay on top of your content

An editorial calendar, or publishing schedule, is used by businesses to control their content across various media, including blogs, social networks, and email newsletters. The calendar summarizes broad themes within your writing and helps you plan a strategic distribution of throughout the year.

For the best results, you should put a lot of effort into planning your editorial calendar and spend time focusing on creating or reviewing your marketing objectives. In the end, this will save you valuable hours and improve your productivity.
You and/or your team will be creating content regularly—and distributing a large amount of content is optimal when combined with Key Performance Indicators (KPIs). Combining editorial calendars and KPIs will give you the clarity you need to grasp what connects with your customers' interests—and determine pieces that result in high engagement, conversions, or even customer receivability.
After you've had an opportunity to analyze your work, you can recycle well-received content, amp up visibility, and use it as a control. A few editorial calendar tools we suggest include: Trello (www.trello.com) and CoSchedule (www.coschedule.com).

Improve readability

Writing tools are useful for obvious reasons. Tools like Grammarly (www.grammarly.com) or Hemingway Editor (www.hemingwayapp.com) offer real-time grammar, spelling, and voice corrections. They can also provide in-depth explanations and advice to help improve your writing skills. Since customers might lose trust after seeing simple mistakes in your writing, it's a great idea to add them to your list of content-creation tools. You can use them within Microsoft Office, email, Google applications, or even on social media.
If this sounds like a lot of work, that's because it is, but it is work worth doing, and BayCreative can help.
We're experts at creating virtual and digital content for B2B and have done so for clients like Salesforce, Cisco, ServiceNow, DocuSign, Palo Alto Networks, Twitter, Airship, Google, and more!
Look at all the things that evolved in 2020 that you want to keep, change, or stop doing. Then ask yourself: How do I want to change my content marketing to prepare for whatever comes next? If BayCreative can help, please let us know.
Stay healthy!
-- Scott, Arne and Team BayCreative