Now that you've got your positioning statement
, you have the foundation for all marketing materials you produce. That foundation will help you create strong brand messaging across all B2B marketing materials.
Brand messaging refers to how you convey your value and your unique value proposition and the language you use in your content. If you select the right language and focus on the right aspects of your business, you can make it stand out from the competition—and ultimately motivate the audience to buy your product/solution.
How do you pick the right things to focus on in your B2B marketing materials? How do you ensure you have strong brand messaging? Read on and we'll provide some tips.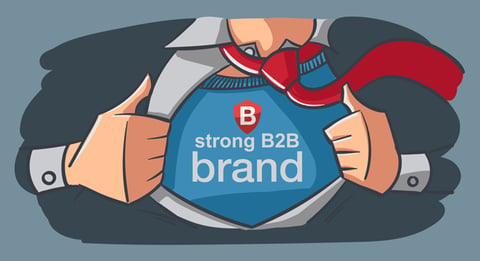 How to Build a Strong B2B Brand Messaging Program
When you were formulating your B2B positioning statement, you listed what sets your company apart. Focus your marketing messages on that (or those), and how that differentiation helps consumers.
Don't tell them, though; show them. That's where storytelling comes in, no matter what medium you're using. (More on that in just a bit.) B2B storytelling will allow you to connect emotionally with the audience. Conventional wisdom has been that emotional appeals are misplaced in B2B advertising because business decisions are logic-based. But that's not true; research shows that in business environments, consumers are driven by emotions and then look for logical reasons to support the decision. Remember, even in B2B, you're marketing to people, not computers.
You listed your company's values. (Right?) Play those up in your messaging. That gives your organization a personality and makes it relatable. Plus,
91 percent of millennials would switch brands for one championing a cause
, according to a 2018 survey by Deloitte. That carries over to B2B marketing, since so much of today's workforce are millennials.
Create contrast:
We talked about identifying what makes your product/solution different than the competitions'. Take it a step further and show the consumer that difference through before-and-after, or what-is-vs-what-could-be, or today-vs-tomorrow stories that show the difference your product/solution brings to their life or organization.

Consistency is important, too:
While you don't want to be overly repetitive, you do want your messaging to convey the same ideas and personality all the time, no matter the medium—that's how it becomes familiar and comfortable for the audience.

And finally, in every piece, answer the audience's core question:
"Why do I care what you're telling me?" Focusing on pain points and your differentiator will let you answer that question.
Three More B2B Marketing Tips

Once you have a few solid brand messages hammered out, create a unified, omni-channel marketing plan around those messages. Include:
Social media (yes, even in B2B)
Video
Articles
Blog posts
Content marketing
Email marketing
Search engine optimization (SEO)
Paid ads
Webinars/Events

Think of all marketing efforts as the same initiative. Don't think of print B2B as separate from digital methods.

Consider developing white papers and contributed articles to industry magazines and blogs in your unique corporate voice. Look for speaking opportunities at industry events. Those will help build up your reputation as a thought leader in the industry.

Invest Time—and Invest in Expert Help

Building a strong brand takes time—and ongoing effort. But the results are worth it, since they can really help you stand out in an increasingly crowded marketplace.

If you need help developing your brand messaging materials, BayCreative, a full-service B2B marketing agency, can help. We've worked with small, medium-sized, and large companies throughout the San Francisco Bay Area and nationwide to develop case studies, infographics, white papers, eBooks, websites, and more that tell their story succulently and effectively.

For More Information About B2B Brand Messaging, Check Out:

... and when you're ready to create

compelling content

, please keep BayCreative fresh-in-mind.


All the best,
- Team BayCreative -