We've previously talked about how B2B white papers can help bring in leads, convert those leads, and establish your company as a thought leader in the industry. All of those benefits hold true for eBooks, too:
In Demand Gen's "2017 Content Preferences Survey Report," 63 percent of buyers said they were willing to register and share personal information in exchange for an eBook

By identifying and solving problems in your industry, you show that you know your stuff, that you've paid attention to the industry and are an intelligent player in it

By demonstrating your knowledge of the industry, you present yourself as an attractive option when researchers, the government, or the media are looking for someone in your industry to talk about a topic

If you present real solutions to real problems, the audience will come to trust you, which can have a profound effect when it's purchasing time

By highlighting the features that are unique to your product/solution, you're showing how it's different from the competition's

Since B2B buyers rely on content to research and make purchasing decisions, eBooks allow you to present them with the research they're seeking—and to suggest solutions to common problems that make your solution attractive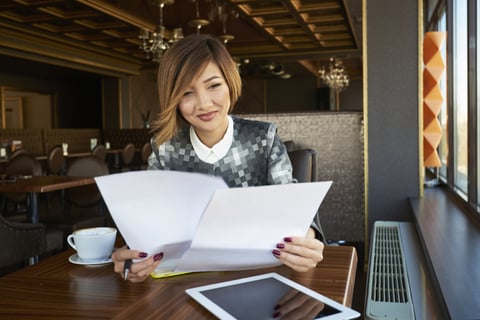 eBooks vs. White Papers
In B2B settings, eBooks are similar to white papers in that they explore a problem or antiquated process and then offer a solution or new way of doing the process. But eBooks take a wider look at the topic.
Here are a few ways the two are similar (and yet different.) We think they complement each other:
eBooks are more about "how to" do something, while white papers take a closer look at a specific topic

eBooks are broken into smaller chapters and use more bullets and pull-out boxes to maximize skimming and scanning; white papers tend to look denser and are more linear

eBooks are based on ideas and trends of interest; white papers tend to be more data-centric and based on formal research

eBools tend to be less scholarly, less formal, and less technical in language and tone; white papers have a more scholarly, technical tone

eBooks will bring in more data—including deeper looks at trends, reviews, and more curated content used elsewhere

eBooks are frequently used to initiate the buying process; white papers educate buyers through the decision-making process
Because of these similarities (and differences), eBooks are generally used in the earlier stages of the buying process—when the audience is still trying to narrow down their options and preferences—and white papers later in the process.

So, Which Is Best for a B2B Inbound Marketing Program?

In our experience, a combination of eBooks and white papers build a robust, effective inbound marketing program. That's not just our observation, though: In the "2017 Content Preferences Survey Report," 77 percent of buyers said they used white papers in the past year to research B2B purchasing decisions, and 67 percent said they used eBooks.

If you think one or the other might be right for you—or you're unsure which is best at this time—please let us know. At BayCreative, we excel at creating engaging content of varying depth and lengths to fit our clients' needs. When you're ready to go, just reach out to us.

All the best,
- Team BayCreative -