I frequently use eMarketer for trusted information, research and resources on B2B digital marketing. You probably do too.
Today eMarketer published a valuable article on the success of lead nurturing campaigns and the effectiveness of targeting and personalization. Their research confirms lead nurture campaigns performed between 10% and 20% (26%) or 20% and 30% (25%) better. And, marketing automation tools like HubSpot, Marketo and Act-On enable B2B marketers to manage the end-to-end leads process (including extensive segmentation of prospects based on interests and behaviors.)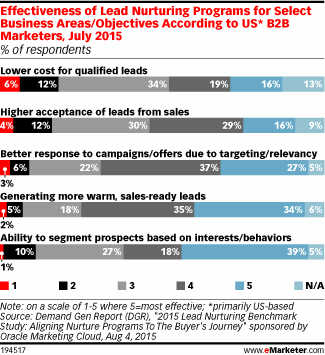 Our agency manages lead generation campaigns for several clients and we continuously see how lead nurturing can make a difference. I wanted to share this eMarketer article with other B2B marketers to emphasize how imperative it is to have a lead nurturing strategy. Lead nurturing makes a difference ... the relationships built during the sales process contributes to a prospect's (or customer's) increased trust, loyalty and interest in your company.
I'd like to get your comments on how you've implemented lead nurturing campaigns to accelerate the sales cycle. If you've struggled with low-performing lead management, inbound marketing or marketing automation, please contact us for a free 30-minute consultation ... or visit the BayCreative website for more information.