At BayCreative, we constantly focus our work on providing the highest quality of a full-fledged B2B marketing, branding and creative services for our clients that aims at delivering successful outcomes.
We know our clients want results, and we strive to meet them. We are honored that our drive to support our clients has been recognized as we have been ranked 83rd on Clutch's Global Top 1000 Companies 2019 list.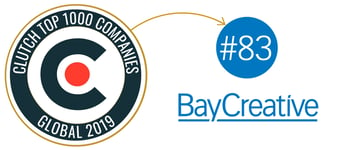 Clutch is an independent Washington DC-based B2B reviews platform that receives client feedback from former projects and uses that to build a ranking system in various fields for business needs. With around 160,000 companies listed on their site, the BayCreative ranking is notable in that it places us within the Top 1% of their entire company list.
"We are thrilled to be selected by Clutch as one of the leading B2B marketing agencies in San Francisco." - Scott Danish, President & Co-Owner.
"Without the feedback from our clients, we would not be receiving this honor. We are extremely thankful for their generous comments, and are grateful that they were as satisfied with the experience as much as we appreciated working with them." – Arne Hurty, Founder & Chief Creative Officer.
Below is one of the many verified reviews on our Clutch profile that outlines the client experience.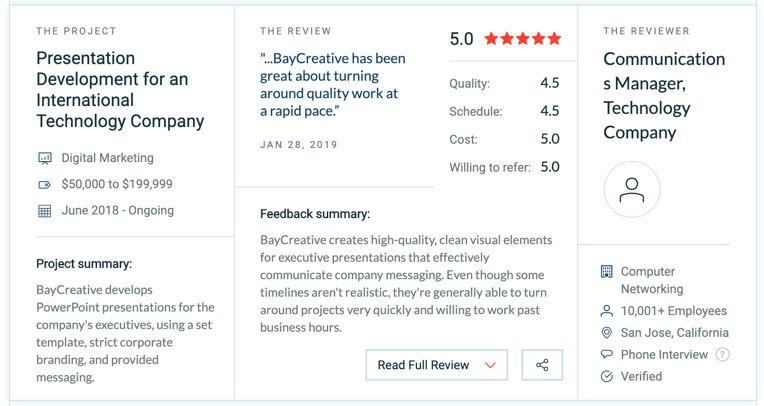 Clutch also maintains a sister site, The Manifest, on which BayCreative is ranked within the Top 25 branding companies in San Francisco (December 2019). The Manifest helps find companies the solutions providers who will be best for their needs based on data-based content and expert guidance.
Marketing is key to the success of any business in today's digital age. Without proper marketing plans and strategies, businesses could be finding themselves in a place with a lack of growth and progress. We want to make sure our clients stay on top of it all and find real outcomes and reach their goals with the aid of our marketing services.
If you are interested in working with BayCreative, please go ahead and contact us – we would love to talk more!
All the best,
- Team BayCreative -