A designer's attention to small details can have a powerful impact on how visitors perceive the overall design of a website. A typical users is generally focused on finding information, and while good design may be nearly invisible to this user, bad design can significantly imeed their success and hurt the experience they have on your site.
As we move forward with Retina displays, design is becoming even more important. With roughly 300 more pixels packed in per inch, we're seeing things clearer then ever.
Taking all this into consideration, what are a few techniques to take your website to the next level?
Typography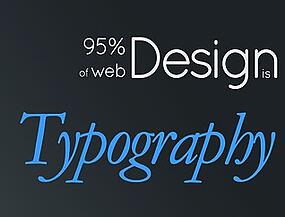 It has been said that typography is the foundation of a website. This doesn't just mean font selection. If you were to strip away all the images on a website, how does the website look with just text and spacing?
Typography can provoke a feeling or even a physical reaction. A single large, bold word will produce a different feeling then a small, thin, light sentence. Typography can also create shapes or images within your design. We've all heard "a picture speaks a thousand words", sometimes all you need is a handful of letters or just a single character.
Texture
Textures in web design can be very subtle, or they can be a focal point of the design. In some cases, textures are used to emphasize certain parts of the design. Because of the flexibility of textures, they can be used in combination with many other design elements, such as typography, colors and lighting.
Textures can be used in background images, sidebars, footers, headers, content areas and even fonts. Although texture is sometimes related with a grunge style of design, its reach extends far beyond just grungy websites. Texture adds dimension to any style of design, if applied properly.
Invest In Custom Icons And Graphics
Custom imagery, illustrations and iconography make for a unique experience on a website. Stock photography and vectors do save a ton of time, however, a photo of a smiling sales rep wearing a headset doesn't feel genuine when your visitor has seen the same image on six other websites.
Devote time in creating custom icons and graphics to preserve the look and feel of your website, as well as the authenticity of your message.
What are your thoughts on website design? What elements are the first to catch your eye?
Follow our blog for more ways to hone your website design.