Most businesses and organizations are positioned in markets that are suited to the benefits of good branding practices. Branding stands out as a persistent and effective means to communicate a company's value proposition, and is the cornerstone for a dependable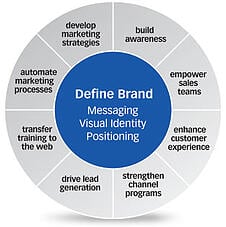 relationship with customers, prospects and business partners. Long-term, well-managed brands build confidence and familiarity–both key components in helping customers and prospects feel comfortable about choosing to do business with you.
Empowering your business or organization with a strong brand helps build relationships through long cycles and long engagements. It also produces an impression of solidity in your organization. Best practices in branding are well-established methods to achieve top performance from your brand; the message it conveys, the promise it makes, the impression it conveys to your prospects and customers. Take an approach that's direct, hands-on, and results oriented… it works.
Reinvigorate Your Brand by Focusing on the Following Strategies:
Messaging, Positioning and Visual ID
Core Messaging & Positioning Framework (Vision, Mission, Value Proposition, Positioning, Key Messages, Elevator Pitch, Company Story)
Corporate Identity & Usage Guidelines (Logo, Tagline, Typefaces, Icons, Graphics...etc)
Naming (Company, Products, Services & Programs)
Brand Extension to Products, Services & Programs
Perception & Recognition Focus Groups
Trademark Registration
Online Domain (URL) Registration
Follow Four Primary Stages:
1) Intelligence and Informed Understanding
A process by which through interviews, questionnaires/surveys and other exercises, you'll want to gather a clear picture of the marketplace landscape you exist and operate. You should conduct dozens of interviews with prospects and customers, as well as your own staff, to discover the impressions people carry about your company, your competition and the industry in general.
2) Branding Work Shop
Take an in-depth examination of the purpose of your business, it's unique characteristics and differentiators, the core value your bring, the character or the relationship between your business and the marketplace. We suggest conducting a 1/2-day group exercise among key internal stakeholders and sales teams in a group setting.
3) Report and Brief
Prepare a detailed report on the findings from all interviews, exercises and workshops. Clear guidelines on how to put these to practical use to develop and maintain your brand identity are documented. Recommend key messaging, value proposition, company positioning, tagline, graphical identity, differentiators from competition, messaging to overcome objectives, and other statements that will form the basis of all communications.
4) Brand ID Revisions and Guidelines
Branding extends to identity design, messaging and positioning development, websites, PowerPoint, eLearning and promotional demos, and other collateral. Through a focused development process, prepare design recommendations for all key assets associated with your brand and its touch-points with your "universe." You should facilitate and ensure correct communication of core messaging, and then develop to final deliverable upon approval. A brand mission document should be developed to articulate for employees the goals of the brand and how ID components are used to support it.
Sound like a lot of work? It is. But the rewards can be significant. Whether you have the in house staff to accomplish the task or need to contract out. Refreshing your brand can be a way to generate more leads, new business and refocuse your marketing efforts.
Interested in hiring an outside agency to help develop your brand? Check out our free eBook: The 10 Steps to Success with Outsourced Marketing.