Whether your goals are to build a qualified-leads database from targeted cold inquiries, or nurture warm leads to remain engaged, or just to get a foot-in-the-door with CXOs at named accounts—to be successful you need to focus you efforts on getting your Sales teams' phones ringing. To do this you need to develop integrated campaigns that leverage innovative inbound and outbound marketing techniques in broadcast and high-touch direct response. No matter what type of campaign, make sure you are using best practices in development, deployment, measurement and reporting. And, maximize the effectiveness of your sales team with self-qualifying landing pages, persuasive call scripts and custom sales presentations.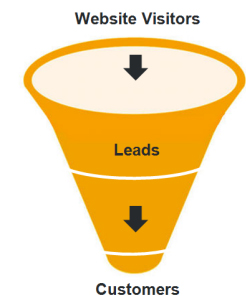 End-to-end, or closed loop, lead generation means combining the efforts and intelligence of your marketing and sales teams. This enables you to engage more effectively with prospective buyers, and deliver more qualified leads. Deploy a combination of inbound and outbound marketing activities to achieve a higher percentage of sales-ready leads, and then enhance those campaigns with targeting and lead quality information provided by sales.
All businesses and organizations have unique lead generation needs, so the first step is to define your core objectives and collaborate effectively with internal teams to determine the best approach—e.g. where do you want your leads to come from? Organic or paid sources? Online or from tradeshows and traditional advertising? Is your target customer a researcher or do they purchase something impulsively or on face value? These types of questions, in addition to a solid understand of the costs/benefits of various traffic sources, will help you develop the best method for generating new leads.
Ultimately new traffic, and leads, can be broken down into two primary categories, inbound and outbound.

Inbound
Inbound marketing helps you "get found" by people already leveraging the web, search engines and social media for information on products and services in your industry. To deploy an effective inbound marketing strategy, you'll need to create content, and lots of it, the more the better (assuming it's good). Understanding what your audience is looking for is key to creating content. If you can figure out the questions your prospects are asking, and provide the answers, you are bound to get more relevant traffic and more qualified leads. Providing targeted prospects with educational content, then nurturing them in regular intervals with additional valuable content will result in more lead conversions.
Inbound Sources Include:
Social Media
Blogging
Rich Web Content
Search Engine Marketing (SEM) / Pay-Per-Click
Custom Landing Pages
Webinars and Online Videos (e.g. YouTube)
Online Forums
Etc.

Outbound
While many online marketers tend to look down their noses at outbound marketing, it remains a key traffic and lead gen source in a number of industries, particularly in the B2B world. Many of your prospective customers want, or need, to receive something to trigger their interest—a promotional mailer, a business card, a well-crafted piece of collateral. A few will only react only when they can hold something in their hands, away from their computers.
Outbound Sources Include:
Direct Mail
Broadcast Email Blasts
Events / Conferences / Seminars
Telemarketing
Print / TV / Radio / Out-of-House Advertisements
Etc.
The best lead generation strategies will include a variety of traffic sources, some inbound, some outbound and sometimes both. The key is to understand your audience and develop a plan that reaches them where they live.
Check out our free eBook on picking the right marketing agency to help plan, execute and measure an effective lead generation strategy.