Since 1998 BayCreative has served as a trusted digital partner to some of the best brands in the U.S. and beyond, providing a full suite of marketing, creative and branding services. With the rise of social media and other digital platforms, the cultural significance of brands has never been higher, with good brands having a staying power like never before. The services BayCreative provides allows businesses and organizations to elevate their brands to praise and success, and they have earned us some praise ourselves.
Our agency is pleased to share that independent research firm Clutch has just named BayCreative as an industry leader among brand consultants in San Francisco. Clutch is a B2B ratings and reviews platform that uses data-driven research and client reviews to help businesses make more meaningful partnerships. After being the subject of this research, BayCreative was ranked among the leading 15 agencies, out of almost 400 of the top branding firms in San Francisco.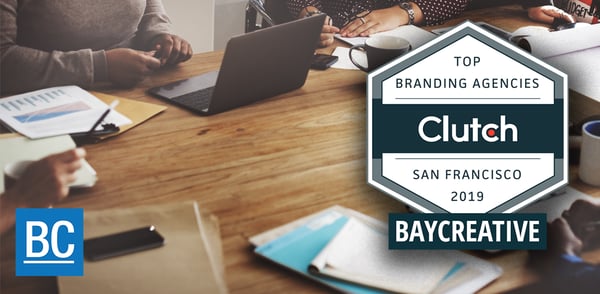 "Although we have Clutch analysts to thank for this recognition, we owe most of it to our extraordinary clients," notes Arne Hurty, the agency's Chief Creative Officer and Founder.
According to Clutch, the most important factor they consider when evaluating firms is what the agency's clients have to say about them, and BayCreative clients have delivered! Hurty continues, "more than 20 BayCreative clients have shared their stories of working with us, and as a result we have an outstanding rating of 4.8 out of 5 stars."
Although we have received a large amount of feedback, we were struck by the words of one of our clients. When asked what they found impressive about BayCreative, they responded by saying:
"BayCreative demonstrates excellent listening, flexibility, a clear sense of design, and a knack for creative problem-solving. The team works closely with us to accommodate changes to the statement of work and never turns down a request."
Scott Danish, BayCreative President and Co-owner, reflects "We strive to be a valuable partner on every project we complete, and reviews like this let us know that we are hitting our mark. We appreciate this opportunity to keep track of how we are performing for our clients, and we cannot wait to see what else they have to say about us."
BayCreative may have been recognized by Clutch as a 2019 Top Branding Industry Leader, but the quality of our full suite of digital marketing and creative services has also been commended. We are excited to be featured as one of the top digital agencies in San Francisco on "The Manifest." The Manifest is a sister-site to Clutch, and serves as a resource for small to midsize firms, providing industry insights and how-to guides. In addition, BayCreative garnered recognition over the past two years from Clutch as a: Top California Service Provider, a Top Digital Agency, a Top Video Production Company, a Top Ad & Marketing Agency and Top Web Designer.
Danish adds "the BayCreative team is proud to receive this praise, but we recognize that we did not earn it alone. Thank you to all of our amazing clients... we absolutely could not have done this without you. If you are pleased with the work we have done for you, feel free to submit your own BayCreative review on Clutch. And if you are looking to elevate your brand and your business, don't hesitate to drop us a line. These first two decades have been kind to BayCreative, and we cannot wait to see what the next few hold for us!"
All the best,
- Team BayCreative -