Even in this age of saturated inboxes and tiresome spam, email marketing is still the most effective and cost-efficient B2B marketing channel.
Why? Part of it is because people use email. They may not use LinkedIn or read that trade publication you advertise in. But nearly everyone—85% of adult Internet users in the United States—has an email account. And at least 91% of consumers check their email daily.
For comparison's sake, only 15% of U.S. Internet-using adults use search engines, and only 22% use social media.
But also: emails convert.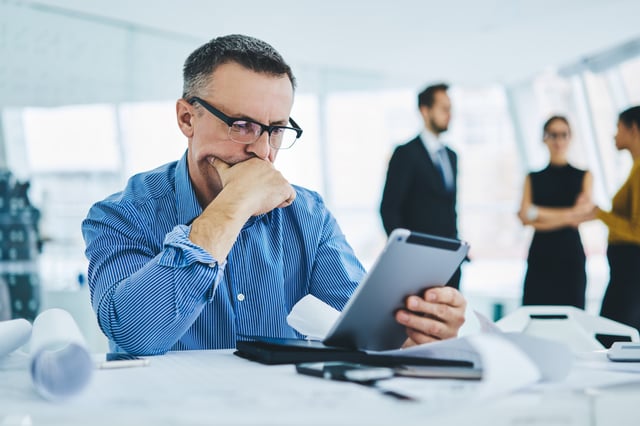 People who buy products through email spend 138% more than those who do not receive email offers. According to another statistic, the ROI of email marketing is 3,800%!
So marketers, email can be a significantly valuable tool for your marketing campaigns. But only if it doesn't get snagged in the spam filter before your prospects even see your exciting offer.
How can you maximize the chances your email will reach its intended recipients? Read on.
How Spam Filters Determine Whether or Not to Intercept Your Email
Here's a quick primer on how spam filters work on inbox providers like Gmail and Outlook: Those services actually look at the user engagement and interactions in your past campaigns.
They use that information to build two scores:
Your score with the individual subscriber. If that person is consistently opening your campaigns and/or moving them to folders, you're going to build up credibility with that individual user.
Your score with the email provider. If the majority of your Gmail subscribers, for example, are opening your campaigns and moving them to folders, you're going to build up a positive reputation with that provider.
You're Being Scored
Here are some factors that go into those scores:
Whether a user frequently opens your campaigns. If they do, that's seen as a good signal that your campaigns aren't spam. If, on the other hand, recipients don't open your email and delete it, that negatively impacts your score.
Whether people respond to your email.
If people move your email out of the junk folder or move it into various folders in their inbox. If they do that, your scores will be positively impacted; on the other hand, if they move your email to the junk folder, your score will be negatively impacted.
If your recipients add your email address to their address book.
How to Win the Spam Filter Game
Now that we know what goes into the score, let's look at some tips for how you can increase your scores:
Only email people who have given you permission to email them. Don't waste your money buying or renting lists; instead, build your own organic list by having people opt-in to your emails. Do this by clearly placing sign-up boxes on your website (and offering them a reason to give you their email address—whether that's a free report or promises of great content in your emails).
Use a "From" name that they would know. For instance, if the recipient signed up to receive emails from your website, use the website's name in the "From" box, rather than, say, the CEO's name. Chances are, they won't know the CEO's name and will think it's spam.
Use addresses that they can reply to. As mentioned, one of the signals use by email providers is whether or not you received responses to your previous emails. Make it easy for your audience to respond; don't send the email from noreply@badmarketing.com, for example.
As always with marketing content—send relevant content. If people enjoy your emails, they'll open them and perhaps even reply. So make sure your content adds value for its recipients.
Get Professional Help to Ensure Your B2B Email Marketing Success
Email marketing lets you actively target the prospects you covet. But if you don't do it right—if you aren't able to avoid the spam filter—you're just wasting your time and money.
A professional B2B marketing agency like BayCreative can help. We have content gurus who can create compelling, relevant content that entice your audience to open your emails. We can make it so simple, you'll feel like you're mailing it in.
MORE INFORMATION: "19 of the Best Email Marketing Campaign Examples We've Ever Seen."
When you're ready to launch an email campaign that delivers results, just let us know.
All the best,
- Team BayCreative -