Marketing is a lot like speed dating—except you don't have a few minutes to attract your prospect's interest. You're lucky if you get eight seconds. And since attention spans aren't getting any longer, it's more important than ever to make a quick but lasting impression. But when it comes to solidifying a connection with your prospects, words alone won't cut it. You need to reach them how they want to be reached: Digitally.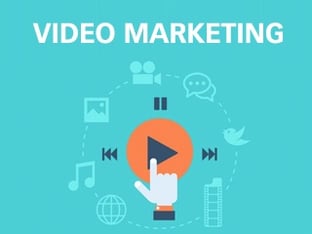 Seventy-two percent of B2B inbound marketers have named video the best marketing medium for value proposition and substantial ROI. There's a reason why digital is dominating the communication stream: it's interesting, memorable, and packs a quick punch. Yet, despite that there are over 200 million videos being streamed on smartphones every day, many marketers still find it difficult to exploit this highly lucrative space to its full advantage.

If you fall within this staggering group, never fear. These four tips will help you step up your video marketing game.

1. Target customer emotions.
NLP research has established that 95% of human actions are subconsciously motivated by emotions. So, instead of making the product you're offering the sole focus of your video, you should craft content that illustrates the bigger picture of how your product will not only make all of your customer's dreams come true but will also contribute to the environment or society in general. For instance, if you are dealing in renewable energy, try to illustrate how your product will help in ensuring the sustainability of the environment and human health. Making an emotional connection will put you on the fast track to converting more prospects into customers—as your audience will feel like they too are contributing to the greater good by supporting your product.

2. Create specific videos.
Your aim as a B2B marketer should always be to rapidly capture the attention of the right people. No matter the type of video—"explainer", executive message, 2:00-minute company overview, case study, webmercial, how-to guide, or eLearning/training—its title and descriptor should be very specific. A specific video title and descriptor will not only do wonders for your video search engine ranking, it will also help filter out the audience—leaving you with potential customers only.

3. Implement the best performing process.
As you undertake video marketing, don't limit yourself to just one method or distribution channel. Try out different schemes to identify which one is most effective. Repeatedly craft the content of your video and distribute it in as many platforms as possible (YouTube, LinkedIn, Vimeo, Facebook, etc.). Analyze the results based on your desired goals, then modify your process as needed. This will help you determine the method that works best for you.

4. Engage with a full-service marketing agency to produce your video
Don't do it alone. Turn to a full-service marketing agency that can help you produce a video with the greatest possible impact—and get the most value out of it once it's deployed.
A full-service marketing agency has the experience and in-house resources to produce videos that:
Educate and train more effectively
Hone your messaging to engage your target audience and build your brand
Quickly demonstrate a product or explain a complicated process using motion graphics
Introduce your team, show off your facility, or bring original concepts to life with professionally shot video
Reinvent your elevator pitch by communicating your value proposition in a fresh way
Resonate internationally with localized translation and voice-over
Cost effectively tell your story using expertly edited stock footage
Maintain corporate branding and style guidelines without sacrificing creativity
These four tips just scratch the surface. Get more tips and strategies for getting the most out of video through our eBook: 5 Things You Need to Know to Succeed with Video.