We're thrilled to have been recognized as a top digital marketing agency in San Francisco by Washington, D.C.-based research firm Clutch. BayCreative is also listed among the leading inbound marketing agencies.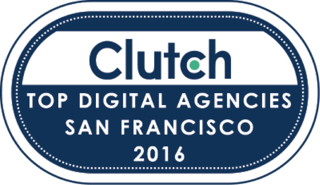 Clutch's research included a thorough examination of the companies included in the report based on portfolio items, key clients, and industry awards and recognition.
After an internal assessment, Clutch analysts reached out to some of our clients for in-depth interviews. Reading their positive feedback was incredibly gratifying.
One of our clients gave BayCreative a perfect 5-star review and stated:
"The things I just loved about them, from the president down, they were always available, and they heard me when I said, 'These are the deadlines.' Due to the timeline, my whole team didn't take their Christmas break, and neither did BayCreative. The thing I can't stress enough is that my priorities became their priorities. They were as committed as me, and I've never worked with a vendor like that before."
Another client commented:
"BayCreative really helped us in terms of being able to take the ideas and the directions that I had about the company, and combine those with some solid creativity and out of the box thinking in terms of how we might present those ideas and build them into the overall look and feel of the company. Also, the talent of their people is first-class."
They later added:
"I can't think of any areas of improvement, and I think that's bolstered by the fact that I'm planning to engage with them at my new company as well. I've been very happy with my work with BayCreative."
Check out Clutch or read through our profile and full-length reviews to learn more about how we were evaluated.