Today Clutch, an independent B2B services research company, published its first report on marketing and advertising agencies in the U.S. The research identifies leading agencies that have competencies across a range of both traditional and digital marketing functions. The full report can be found at: https://clutch.co/agencies/leaders-matrix.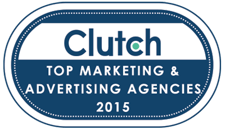 BayCreative was inaugurated to the Top Advertising & Marketing Agencies Leaders Matrix. Scoring high in proven ability to deliver and focus on a service type, BayCreative was identified as a "Market Leader" in the marketing and advertising agencies category. This places BayCreative among the top firms in the U.S. as reviewed by Clutch. Other firms in this category include Coming of Age, Forge Worldwide, Greater Than One, Hub Strategy and Communication, JB Chicago Killian Branding, Ruckus, Sensis Agency, The Miller Group, Traction and Wingman Advertising.
Clutch analysts reached out to North American agencies with experience executing multi-faceted marketing campaigns for a wide range of clients. To evaluate these agencies, the research company used its proprietary Leaders Matrix methodology together with customer reviews. Their main goal is to identify the companies that deliver high-quality results to their clients. The top agencies were selected based on numerous quantitative and qualitative factors, including company experience, market presence, positive client feedback, and industry recognition and accolades.
"The marketing and advertising industry is constantly changing." stated Chandler Dunklin, Business Analyst at Clutch. "These agencies have distinguished themselves by their ability to provide both traditional advertising services, as well as cutting edge digital marketing services."
Dunklin adds "Our analysts spoke to several of BayCreative's clients, and they all gave near flawless reviews of their experience working with the agency."
BayCreative is honored to be recognized among leading marketing and advertising agencies that delivers quality results. To explore what clients say about BayCreative, please visit the BayCreative Clutch profile or www.baycreative.com.