Getting heard by B2B prospects is hard—particularly if what you're saying isn't significantly relevant to them and their workday. If your message is a general one, a large segment of your audience will ignore it because they have no reason to listen to it.

But if you create multiple messages, each targeted to a specific group of prospects and customers, you can craft content that makes them stand up and take notice. To do that, you need to segment your customers or market.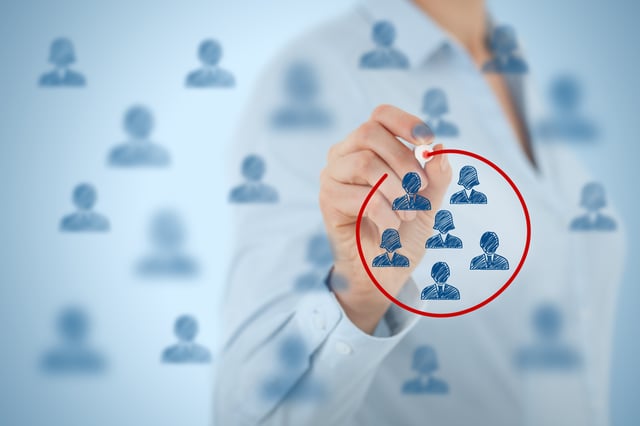 Customer segmentation, or market segmentation, is the division of customers and potential customers into discrete groups. Solid, relevant content mapped to well-built marketing segmentation will give you increased click-through rates and conversions from your content and offers.
Deeper Segmentation for Better B2B Marketing
Often, companies will segment the market into company characteristics, such as industry and size or economic value.
But those doesn't really give you the information you need to craft relevant messages for the audience. Just because they share size or economic level doesn't necessarily mean they share needs or problems. (Although, if you put size and economic value together, you may be able to sufficiently narrow the audience.)
So go deeper with your segmentation. Look at:
Needs.

This is based on what specific product or service customers have expressed a need for.

Buying characteristics.

This is based on their responses to messaging, marketing channels, and sales channels.

Personas.

Figure out who you're selling to, what the culture and values are of the company and the decision-makers.

Niches.

Companies in the same niche frequently have the same pain points. As a bonus, when you figure out those niche pain points, we'll present yourself as someone with deep knowledge of their industry.
Now That You Know Who They Are, Talk Directly to Your Prospects
Segmenting at this sublevel takes more work, but the results are worth it. You'll want to create and maintain a thorough database that contains purchase history, interactions and engagements, and the names of the people involved in the decision-making unit.

Once you've segmented your audience, you can start marketing to them with stories and solutions that speak to them specifically—even if they're part of a large crowd.

At BayCreative, we help you craft messages that capture your target audience's attention. When you're ready to begin telling your stories

,

just let us know

.




All the best,
- Team BayCreative -