You've probably heard the saying, "No one ever got fired for buying IBM."
IBM didn't get its sterling reputation overnight. It achieved it by creating a superior product, being a leader in innovation, and building trust with its clients to ensure they would return.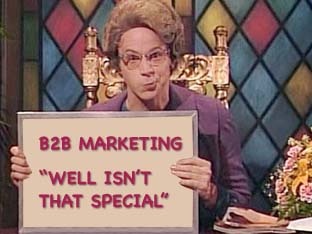 Business transactions have a reputation for being impersonal and all about the bottom line. But in order to have a successful B2B transaction, you've got to take a more human-to-human approach. B2B marketing has more layers than B2C. You not only need a solid understanding of your clients and their needs—but also of your clients' customers and their needs. This takes time, which makes building relationships that go beyond one-time transactions key.

It has a longer sales cycle.
In B2B markets, the decision-making unit (DMU) is highly complex and can comprise many stakeholders who all have different goals for their departments. As a result, the sales cycle can be long and require a lot of research, compromise, and handholding.
The long sales cycle relates not only to closing the transaction, but creating long-term clients who return to buy your product. No business can sustain itself if it doesn't have return buyers. So the life cycle of a transaction cannot simply be reduced to signing a contract. It has to include building a relationship.

It's all about attention to detail.
B2B accounts are slowly moving beyond buying and selling effective services and products at good prices; they now demand partnership. It's critical that the B2B marketer be adept at major account management, including the proactivity, manpower, and responsiveness that the work entails.
Key accounts not only require the product or service be delivered to them on time and perform flawlessly, but they also require customer service, problem resolution, and technical advice.
In order to retain a key B2B account, you need to add value to your client's effectiveness by offering technical consultancy and long-term support. And the key to this is implementing a Customer Relationship Management (CRM) tool—where personal details of key members of the DMU, along with every transactional and contact record, can be tracked.

Needs take precedence over emotions.
The intricacy of any B2B market is creating a value that reaches the practical concerns on the buyer side. Unlike B2C, where spur-of-the moment purchases happen regularly, B2B is less emotionally driven because it's based on rational assessments of long-term need. Analytics play a huge role in matching the solution to the need. B2B buyers use analytics, such as ROI, cost-benefit, and many others, before deciding on a supplier. This difference in approach is even more obvious in direct mail. With B2C customers, it's common to use emotional hooks like scarcity or exclusivity to lure a buyer, while in B2B, buyers use straightforward metrics.
But that's not to say emotions don't play a part for the B2B buyer. Emotional concerns involve such things as security and trust, which means B2B sellers must maintain their focus on reputation, brand, case studies, consistency, and reliability of their service or product.
Whether you're selling or buying a service, there are several strategic actions you can implement to improve your chances of success. Consider bringing a full-service B2B marketing/creative/branding agency on board to implement best practices and help achieve your core business goals. Visit the BayCreative website for more information, or download our eBook "10 Tips: Should I Outsource My Marketing?"

Be "in the know."
As a B2B seller, it's critical to know your clients as well as they know themselves. This means studying their website content, their clients, and their revenue figures. And above all: knowing what problem they need to fix, so you can tell them exactly how your product or service is the solution.
CEOs love that.