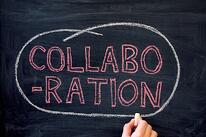 Anyone who works in a creative field has had, at one time or another, the same nightmare. In it you've just completed a masterpiece, the product of endless hours of work, and the time has come to present to your client. You make your pitch and they pause and say, "what if we made all the text bright green?"
Opening the door to client collaboration can be a little nerve wracking but there are significant benefits, such as, a better understanding of your client's needs, and a stronger working relationship. With the general familiarity of PowerPoint, it's an ideal way for the uninitiated to start developing a collaborative process.
One of the most interesting aspects of working on PowerPoint presentations is the way that it allows you to collaborate. Unlike any other medium, PowerPoint is ubiquitous in it's availability and almost everyone with a copy has some knowledge of the tools and features. At our agency, this always opens up a welcome level of interaction with our clients. The ability to edit to slides, shuffle them around and change the design, brings the savvy customer into the process. Everyone gets more acquainted with the design process, what goes into creative development of a presentation, and the possibilities for future projects.
In addition to a better end result we also get some great insight into the mind of our client, their process, and concerns. Some may shy away from involving clients in the creative and development processes, but I say dive in.
So, basically, the process is what's at play and keeping your eye on that ensures both better outcomes as well as getting the best value out of the experience.