You should be shouting to the world about your company and all of the great things that it does. That being said, this does not guarantee that anyone will be listening. It may well be the case that you are just shouting into the wind in a very marketing noisy world. In order to get through all of that noise and really make a difference, you have to plan things out very carefully.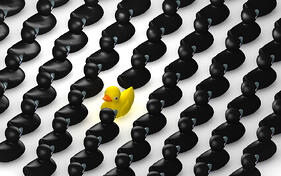 Obviously, creative approaches to marketing are the ones that are the most likely to break out of the mold and capture the attention of those who see them. The added benefit of unique approaches is that they also often create a lot of free press for those who use them as well.
A May 2013 Forbes article by Josh Linkner wanted to expose some of the best examples of companies that used unique marketing approaches to reach their customers. One of the best examples of this was the Dove beauty products company:
This beauty company exposed its own industry from the inside out. By attacking the notion that all advertising campaigns for women's beauty products had to feature rail-thin models with heavy photo-enhancing, Dove exposed this hypocrisy to the world.
How cool is that? Dove took the risk of exposing parts of its own industry that have been criticized and actually took them on head on. They were trying to show that they could be different and win over customers in the process. It appears that the campaign worked as Dove has received plenty of free and positive press for their idea.
Not all companies have to expose some negative flaws in their industry in order to get noticed, but they do have to do something that captures the attention of those who view their marketing materials. This often means doing some unexpected.
Check out our free eBook on new ways to drive leads and generate contacts.