Every business needs marketing. It is not always done the same way, but all companies have to get the word out about their products and why customers should consider using them. In the world we live in with online commerce playing a big role, it is important to consider things like content management.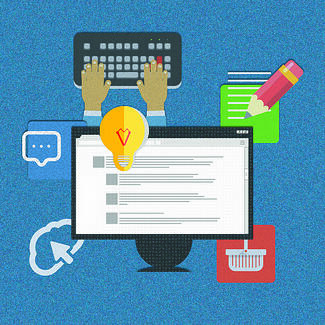 Why Use Content Management?
One thing you may not realize about yourself is that you have probably already done some content management in its most basic form at some point in your life. Webdesign.about.com says this,
...Chances are, if you've put up a Web page on a free Web page server or ISP you've had access to a rudimentary content management system.
In the case of a free website like this, you are mostly just working to order the content that you have into sections on the website. Though it is very basic, you have used content management in this way.
More Professional Management
Typically when we hear the term content management we're referring to a website CMS, like Wordpress or Joomla. These tools are great for building a website and maintaining it, but they fall short beyond that. What do you do when you need to coordinate your blog content with your website content with press releases or other collateral.
Those who use SEO know by now that having fresh content is one of the most important things to receiving high rankings on the search engines. However, most business owners do not have the time to write or create all of that content themselves. They need outside sources to do so and then have the content they receive managed properly.
Professional content management, whether outsourced or organized internally, is essential to ensuring that you have fresh content created on a regular schedule and that the new content works with your overall content strategy.
A Nice Blend Of Content
No matter what the topic of your web page is supposed to be, it is important to have a nice blend of content types to go around. The more types that are included in the website, the better the ranking and the better the appeal of the site in general. Always be sure to look out for a variety of different types of content.
Contact us if you would like us to be your provider of content management services. We will be glad to help.